innovations and aesthetics
Visually pleasing, complex specialty products are easy to design. High-quality technical execution that is suited for serial production paired with beautiful design and great ergonomics is the real challenge. At Lax Design we create products that are innovative and insightful, creating new, unique forms and aesthetics. We set ourselves strict criteria and by following them, we make sure our chairs stand out.
Our design is timeless
We do not follow trends – we make our own. We create chairs that are comfortable to use and provide an elegant, interesting shape that seamlessly blend into all environments and lighting circumstances.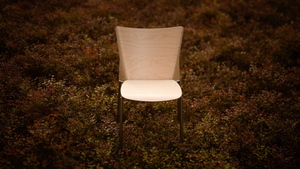 A DURABLE PRODUCT IS AN ENVIRONMENTAL ACT
We believe changes in style and fashion in the cross-wave of trends are not a sufficient reason for initiating the industrial production of a new product. That will inevitably place tremendous strain on nature. Products must stand the test of time and decades of use. Our chairs are intended to last from one generation to another as classic, timeless heirlooms. We have made them with an environmentally conscious person in mind.
FINNISH CRAFT GUARANTEES HIGH QUALITY
We use Finnish materials, from which the best local professionals refine the products. Instead of importing cheap labour from overseas to accommodate the needs of our
customers, we want to provide premium Finnish quality to our clients both nationally and worldwide.